Last chance to save this year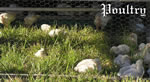 It's time for our annual summer chicken sale!  This coming Monday, August 22nd we will have fresh chicken available at the farm from 3:00 p.m. until 7:00 p.m.  If you didn't get signed up for our chicken CSA in April or May, this is your last chance to save this year and stockpile our delicious birds for winter!
The following discounts will be applied:
Buy 10 whole or whole cutup chickens:  5% off
Buy 15 whole or whole cutup chickens:  7.5% off
Buy 20 whole or whole cutup chickens:  10% off
You can mix and match on any of the above packages, but please note that quantities of cutup chickens will be very limited!  Reservations will be accepted with advance notice.
All breast, leg quarters, stock packages and chicken wings will be 10% off.  No minimum quantity is required.
These prices are good for Monday only!  So take a short drive to our farm and save while you can.  Also, for your convenience we can accept cash, check or debit/credit card.
Directions to the Farm
Headed to the farm to take advantage of our chicken sale? Find out where we are and how to contact us.
Or you can simply click on this google map: http://bit.ly/o8ni1U