As many of you know, we've been a vendor at the Binford Farmer's Market since May of 2010.  It doesn't feel like 5 summer seasons have gone by, but they have!  We've built a lot of relationships in the Binford area and as such, some of our most ardent supporters come from that market.
With that in mind, a couple of months back we began to think of a way to stay connected with our customers in the Binford area year round.  We considered a number of ways to do this, but the idea we kept coming back to was to form a buying club.  A buying club, in short, is simply a group of people who order product from a farmer and then have the items delivered into the city for pickup at someone's home.  There are many different examples of how buying clubs are operated and what products they provide but they all hinge on one very important thing:  A really good buying club coordinator!
The coordinator is the glue that binds this type of relationship together and without them, the club simply won't function.  As we started to pull the details of the buying club together, I began mentioning it to several of my regular customers at the Binford Farmers Market to gauge interest.  The interest was very high and the feedback was really positive.  We knew we were on to something and we just had to find the final piece!
One of those customers I mentioned our idea to was Meredith Sharp.  Meredith is an extremely passionate local foodie who supports us weekly and loves all of our products (but she is hopelessly addicted to our forest raised pork).  As we were parting ways the day I mentioned our idea she expressed an interest in being involved to help get this project off of the ground.  After hammering out some logistical details, Meredith agreed to be our official coordinator for the Binford Buying Club!  We feel really fortunate to have her, and her husband Matt, on board to help us make this a reality.
Now that we have all of the nuts and bolts figured out, we are happy to announce that our first delivery to the Binford Buying Club (BBC) will be on Monday, November 24th!  Delivery is free, and there is no minimum order required.  All you have to do is order by Sunday, November 23rd thru our online order form and select "Binford Buying Club" as your pickup point.  If you are not comfortable ordering online, you can also just contact Meredith via email and she can place your order for you.  Once your order has arrived, she'll contact you about pickup times and take things from there.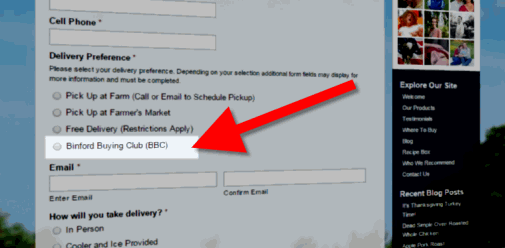 You might have a few questions about how all of this will operate, and most of the answers can be found in the FAQ section on our Binford Buying Club (BBC) webpage.  If you don't see your question there, just email Meredith and she'll respond to you.
Want to stay connected with all things BBC related?  You can sign-up using the email form below, or you can always go to our email sign-up page as well.  Meredith will be updating you through this newsletter on ordering deadlines, product availability, pickup times, and more.
Our goal is for those of you on the Northeast side of Indy to have a way to enjoy our products year round.  Please consider taking advantage of this free service!