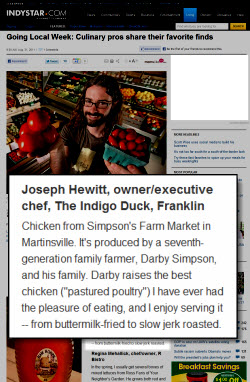 Some of you may have seen us mentioned in a recent Indy Star news article for their "Going Local Week: Culinary pros share their favorite finds". Simpson Family Farm was highlighted as the favorite find for Joseph Hewitt, our friends and owner/executive chef of The Indigo Duck down in Franklin.
This is what Joseph had to say about us in the article:
Chicken from Simpson's Farm Market in Martinsville. It's produced by a seventh-generation family farmer, Darby Simpson, and his family. Darby raises the best chicken ("pastured poultry") I have ever had the pleasure of eating, and I enjoy serving it — from buttermilk-fried to slow jerk roasted.
Darby and his family visited The Indigo Duck last weekend for lunch and it was absolutely a fantastic meal. If you're looking for a dining experience outside of your normal routine, we highly recommend visiting the Hewitt's down at The Indigo Duck. Oh, and you might just start making it part of your normal routine.
Something else you can add to your routine is stopping by and visiting us today at the farmer's markets. Darby will be at the Binford Farmer's Market today and Kim will be back in at the Greenwood Farmer's Market on the south side.
You'll be able to pick up some of our pastured poultry and pork for yourself today. We're also taking orders now for Thanksgiving and Christmas pastured turkeys. Stock up on chicken wings for the freshly started NFL season or perhaps grab a few smoked ham hocks and chicken frames for a rich and hearty soup to go with this cooler weather starting to show-up on our calendars.