This post shares content that we recently sent to our customers that purchased one of our free range turkey's last year. Even if you didn't purchase a turkey last year, we didn't want to leave you out of the opportunity to grab one for your family this year. However, be aware our customers were very happy last year and already have a bit of a headstart on you for ordering, so you may want to read quick and order your turkey as soon as you finish reading this.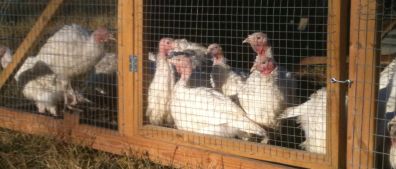 While it may seem early to be talking turkey, our turkey poults actually arrived here at the farm two weeks ago and Thanksgiving is just a little over three months away. We are already working hard to make sure your Thanksgiving Feast is as perfect as it can be!
If you are not on the e-mail newsletter list, you can sign up quickly and easily on our website. This will keep you up to date on all kinds of things including product availability, new recipes, news articles, etc.
Secondly, the feedback we received from last year's turkeys was nothing short of fabulous and very humbling at the same time. In short we were blown away with the comments that many of you sent to us after the holiday. We knew the week after Thanksgiving of 2010 we would be offering turkeys again. Thanks to all of you for supporting our farm, and hence our family. Without you, there is no Simpson's Farm Market!
Now to let you know what is different about this season's turkeys:
Less Expensive Turkeys, Same High Quality
They are going to be less expensive! However, I want to stress that we are not cutting any corners here! You will receive the same product you did last year that is raised on our typical mix of transitional organic grains and certified organic mineral supplements. And of course, they will graze on our chemical free pastures. We are raising more turkeys this season which spreads out our fixed costs in addition to working smarter. The price this season will be $4.99/lb (a 10% reduction in price over last year's $5.49/lb).
You Can Now Order Online
You can place your deposit thru our new secure online ordering system, or you may also do it in person at any farmers market (or mail a check to us). Just like last season, a non-refundable $25 deposit is required for each turkey ordered. Please note that you can order as many as you would like. Many of you called last year after Thanksgiving to see about getting a turkey for Christmas or New Years and as you learned we did not have any extras! Please plan accordingly in advance this year.
Downtown Pickup Before Thanksgiving
We will once again have a downtown pickup point the Friday prior to Thanksgiving on November 18th. That was very popular last year and worked out well, especially for our North, West and East side customers. This year, we have worked out arrangements with an old friend of ours from Martinsville who just happens to be one of the owners at Sun King Brewery at College & Ohio St. The parking lot area is also much larger than the Indianapolis City Market and will make logistics much simpler. If you have not tried Sun King beer, you are missing out! And Friday's are the discounted day of the week to fill your take home growlers. Local raised turkey, local brewed beer……nice.
At the Farm Pickup Too
We will also have a pickup at the farm later that same day, just like last year.
If you have more questions, you can get all the details on our turkeys here. If you have other questions, feel free to contact us here.